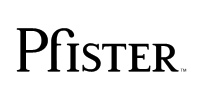 Pfister Faucets started over 100 years ago. Now their kitchen and bath products are available in showrooms around the world and in every Home Depot and Lowes in America. The brand's history of innovation is filled with tech milestones that have elevated the industry's ideas of what constitutes a modern kitchen and bath experience.
One of the latest features is React technology. React allows you to guide your hand in front of a kitchen faucet's sensor in order to turn the water on or off. Web Advanced was asked to build a mobile responsive microsite, mobile responsive email, and banner ads in support of React's product launch and marketing campaign.
To demonstrate the motion-activated nature of the product, Web Advanced worked with Nurture Digital. The agencies collaborated to capture video of a hand turning the faucet on & off on a white background. The desktop version of the microsite integrates the videos directly into the content of the page. At first glance, the user appears to be looking at static images. Upon clicking "Watch how to turn it on", a hand enters from the edge of the screen to demonstrate how to activate the faucet.
In order to influence the perception that React transforms the traditional kitchen faucet into the extraordinary, the microsite was built with a minimal yet bold storytelling approach now commonly associated with innovative new tech devices.
Integrated into the microsite are references to Nurture Digital's commercial for React, which features the comedic character named Doug – a seemingly average but hilarious family man who has volunteered to be the spokesperson for React.