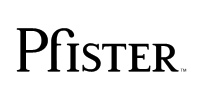 Tap water! America's popular cocktail of drugs, poison, and H20. It's not the latest in mixology. It's science.
We're talking pain relievers. Antidepressants. Birth control. Lead. Pesticides. Trace amounts of these contaminants are detected in drinking water across America. Science tell us that the long-term effects of this exposure may not be discovered for years. Who wants to wait to find out? No one.
So, what's a home improvement hero to do? The innovative team at Pfister Faucets has a solution. Xtract technology delivers filtered water direct from a kitchen faucet. It filters out a greater variety and percentage of contaminants while pouring faster than typical methods.
We created a mobile responsive microsite to act as a hub of all things Xtract.
Designed to make you smile, the microsite's comedic punchlines and visual cues are inspired by the Xtract video created by Nurture Digital. Our agencies worked in partnership to fill the thematic gaps between the web and video experiences. The consistency elevated the product launch into a beautifully integrated campaign. We extended the presence of the video's comedic narrator by thoughtfully embedding audio clips into specific areas of the microsite. The teams also brought the contaminants to life by characterizing them inside of playful, emoji-styled animations.